At Gobble n Grunt Outfitters we are results oriented. Hunting is hunting, and just like in life, there are no guarantees, however, we believe that results should speak for themselves, therefore, we encourage you to contact the many satisfied friends that have hunted with us. They are our best salesmen. Please be sure to take time zones into consideration when calling.
Archery Deer
Gary Joseph, New York, 845-838-1240
Jim Kurdziel, Montague, MI (231) 894-2091
Bob Teagle, CA bateagle@gmail.com
Blair Zaffke, MN blair.z@hotmail.com
Brad Parker, FL brad@tlhland.com
Jonathan Godfried, MI jgodfried@charter.net
Adam Borenko, PA adamivel@hotmail.com
Doug Northrup, Michigan, 269-649-0600
Frank Dudek, Michigan, francisdude17@yahoo.com
Gary Gapinski, Minnesota, ggapinski@charter.net
Chet Norris, Alabama, 256-350-4575, bnorris@acesag.auburn.edu
Brent Riker, Winter Garden, FL 34787, (407)-877-9442, rikerbrent@aol.com
John Masterfield, Wisconsin and Florida, (715) 547-3833, (407) 654-7072

Turkey
Gary Berrong, MO glberrong@earthlink.net
Richard Falcone, falcone.richard@yahoo.com
Charlie Hager, MT, chagerjr@gmail.com
Jim Gibson, jameswgibsonjr@yahoo.com
Doug Hamric, dhamric@alleghenyindustries.com
Roger Arbuckle, KY chcwk@bellsouth.net
Ryne Ashley, AL ryne_ashley4@yahoo.com
William Barton, FL wpbwjb1@aol.com
JC Blauvelt, NY gunsmith@jcbgunsmith.com
Doug Hamric, MD dhamric@alleghenyindustries.com
Phil Houser, IL phouser@f-w.com
Brooks Jackson, AR brooks@jacksonbrownking.com
Patrick Moran, MN patrick.moran@using.com
Don Forgan, MD 410-810-2706 donforgan@dmv.com
Sean Fisher, MD 410-820-0117, spfisher@c-p-rinc.com
James Daily, GA 941-587-1494
Sam Adams, adamsappraisal@yahoo.com
Rob Cotterman, SC 803-494-4403
Vic Carillo, FL 305-665-9003, jefevichem@aol.com
George Contorakes, FL 305-661-0731 shotist@ix.netcom.com
David Anderson, DAnder0727@aol.com
Rhett Butler, rhett.butler@valent.com
Dennis Aucoin, MS 225-719-4333
Mark Nelson, FL nelroses@aol.com
Jack and Sabrina Rains, IN 765-728-2867
Pat and Loren O'Connor, IL 630-801-9764 patocnnr@aol.com
Jim Dick, IN 765-348-3357
Shay McGowan, NE psalm271@cccusa.net
Wes Murphy, SC 803-436-5528 wesnyou@hotmail.com
Rick Latshaw, MD rlatshaw@dnr.state.md.us
Mike Bessingpas, mbessingpas@rdoequipment.com
Steve Belletti, NH 603-206-5099 belletts@tycoelectronics.com
Michael Burns, michael.burns@wachoviasec.com
David Sexton, david.sexton@syngenta.com
Wayne Lennington, Wlennin@aol.com
Cally Morris (Hazel Creek Decoys and Taxidermy), MO hazelcrk@nemr.net
Kevin Klett, Circleville, OH (740-420-9307) angiequatman@yahoo.com
Brad Bulvin, Johnstown, PA 814-255-3400 kellbrad@floodcity.net
Gerald Bulvin, Johnstown, PA 814-495-5180 jkbulvin@floodcity.net
B.J. Kester, Staunt0n, VA 540-248-3860 bjktr86cc@aol.com
Jesse Kester, Staunton, VA 540-248-4722
Denny Hescox, Coalport, PA 814-687-4504 denslevi@aol.com
Clifton Poole, Sheridan AR, 870-942-2185 cliftonp@seark.net
Lee and Becky Thompson, Covington, OH 937-473-2328
Tom Sanders, Eustis, FL 352-357-7721
Tim Zeafla, Dayton, NY 716-532-5530
Dick Naber, Franklin, OH (513) 425-0852, naberd@aol.com
Larry Beckwith, Lewis Center, OH (740) 549-9949, lbeckwith@core.com
Warren Thompson, Ionia, MI (616) 527-4657
C.J. Basler, Ionia, MI (616) 527-6453
Cole Heichelbech, Jasper, IN (812) 482-7921, cole@jasperseating.com
Shawn Lewter, Lester, AL (256) 233-5487
Wingshooting & small game
Gordy Krahn, gkrahn@namginc.com
Tony Masino, MD annetony1985@verizon.net
Phil Houser, IL phouser@f-w.com
Michael Tabor, OH michaeltabor@starchem.net
Charles "Jack" Minter, TX angie.carver@am.jll.com
Leff Robbins, AL lefferage@yahoo.com
Jim Dick, IN 765-348-3357
Jack and Sabrina Rains, IN 765-728-2867
Charles Carpenter, VA 804-556-6416
Buffalo
Cliff Hunter, MS cliffhunter@tommybronson.com
Leff Robbins, AL lefferage@yahoo.com
Robert Smith, MI rcsmith4@msn.com
What our hunters have to say..........
James, I wanted to thank you for the terrific experience I had hunting at the redbird lodge. You were not kidding about having a lot of turkeys in Northern Nebraska. WOW! I know our whole group had a great time. I can't say enough good about my guide Shane. This guy worked very hard to make my turkey hunt the best I have ever been on. He had a great attitude, knowledgeable and very professional. I will definately be back with another group. Bob Misko
---
Hello James. I want to pass on to you my personal thanks for having a top-notch operation. I am a retired USAF General Officer and my son is an active duty US Marine Lt Col. We were at your camp on May 14-17 and experienced a Merriam hunt of a lifetime. Butch met us upon arrival and up until the time we departed on the 17th was "on the scene" to make sure our stay was first class. he served as our personal guide in addition to managing the operation at Redbird Camp. He drove us about 50 miles one way to scout "a special hunting area" on the 14th, and made sure we were back on site early the next morning. We both killed our two birds the first day!.....Tell Butch I said hi and as we used to say in the fighter pilot community, "I'd fly his wing anywhere at any time". Larry Huggins
---
I had a great hunt with Gobble n Grunt on April 29-May 1 with Dick as my guide. i was able to complete my single season grand slam. Dick was very prepared, had scouted out the birds and just overall knew what was needed for me, the hunter. The food and accommodations.....what can I say? This was the 2nd trip for me hunting Merriams with Gobble n Grunt. Both times were A-1! Looking forward to returning to Nebraska for more Merriams action. Steve Williams, Edwards MS
---
Just wanted to let you know how pleased I am with the hunt I booked with you. All accomodations were excellent and the hunting was fantastic. If anything, it was too fast as I tagged both birds within hours on the first day. I especially want to commend my guide Brett. For a young man he was on top of everything. he knew where the birds were and where they were going. He was always scouting and working. JC Blauvelt
---
James. First let me say I never had so much fun hunting since I picked up the bow at 12 years old and now I'm 44. The quality of deer was way above expectations. I learned a big lesson in the first 10 minutes of the hunt. Always be ready for the shot of a lifetime. The two ten pointers that I shot were the kind of deer I saw everyday and the ones I didn't get were 150 to 170 plus! It had me so excited that I couldn't wait to get up at 3:30 every day to go out and hunt. you just never knew when a booner would come by. My guide Butch was great and worked hard to get deer in front of me. Please don't let him retire! I couldn't recommend this hunt any higher for someone who wants some of the best bowhunting on earth, plus you get a chance at a second deer. I plan on making this a regular stop. Just let me say that if you want a quality hunt with above quality game you cannot do better than this hunt. Great people, great game, great lodge. I hope you will invite me back. Jon Godfried
---
Just a line to say how pleased we were with the bison hunt last weekend at Gobble n Grunt. Shane Carson was a great help and a truely reliable guardian for Esther when, for example, we intermingled with a group of buffalo in a clump of tall cedars. Never a doubt she was safe. A lot of fun to be with, share windshield time and swap stories with. You were right; he's true blue. A+ in every respect. Every member of your staff and Gobble n Grunt did a great job to make us comfortable and successful. Kay's cooking was delicious. Butch, Jared and David were every helpful and cheerful. Even your other guests were pleasant company. I have already recommended this bison hunt to two good friends who will be booking with you in the future. Thank you personally for your patience and thoroughness in helping me prep for the hunt. It makes Esther and I just grin at each other when we recall the highlights. It was the experience of a hunting lifetime. Best Regards. Tony McGann

---
James, I want to thank you so much for your hospitality during our recent Greater Prairie Chicken hunt at your Redbird Lodge in Nebraska. The three of us had a blast! The food and lodging were excellent, as they are during he spring turkey hunts, and our guide was very knowledgeable about all of the game in the area. As you Promised, the "chikin" hunting was fantastic! I never knew there were so many of those birds anywhere these days--we saw many more than we shot on each of our three days in the field. I have told many people that you have more turkeys than anywhere and I can now say with some confidence the same for Greater Prairie Chickens! Wow, the bonus dove hunting and prairie dog shooting was great as well. The country in your area is beautiful, the game is abundant and your accomodations and service are excellent. We look forward to seeing you again soon! Phil Houser

---
Just wanted to thank you for a wonderful time shooting chikins, praire dogs and doves. The action was non-stop. We had a great time. Cannot wait to come back this spring and chase some turkeys. Your operation is second to none. From the guides, food and accomodations it cannot be beat. Robert York

---
I hunted last week at the Gobble n Grunt camp. What a great trip! I shot two birds the first day. Brett was the guide. He was a really great hunter. I think we walked over 1/2 of Nebraska which really made it fun. The food was great, as well as the camp. Thanks. Bill Barton, Jacksonville, FL

---
I just wanted to provide some highly positive feedback on my Merriam's hunt over this past weekend. From the setting to the turkeys to the guides to the food and accommodations it was all great! I'm already dreaming about getting back there with my son! Mike Smith

---
James we had a great time. The hunt this year was even better than last year. Once again, one set up and two turkeys down in an hour and a half--both came in gobbling their heads off. Next year I am video taping some of this stuff. Thanks for the Hunt. Wayne Lennington

---
I just wanted to let you know that we had a great time hunting with Jeff at the west camp. Needless to say the turkey population is really impressive. It beats the heck out of hunting in Georgia. What a joke compared to your place. It's a different world out there. I was in heaven. Michael Burns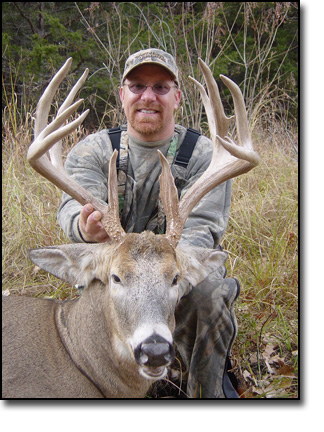 I love to hunt whitetails and although I have the opportunity to hunt them in many states, I always look forward to my annual archery hunt in Nebraska with Gobble n Grunt Outfitters. An outstanding camp with an outstanding staff and tens of thousands of acres of beautiful unpressured whitetail country. But, best of all, I've taken some of my biggest bucks with Gobble n Grunt. Including my best to date a 171' archery buck.

Jim Kurdziel
Michigan Field Director
Whitetails Unlimited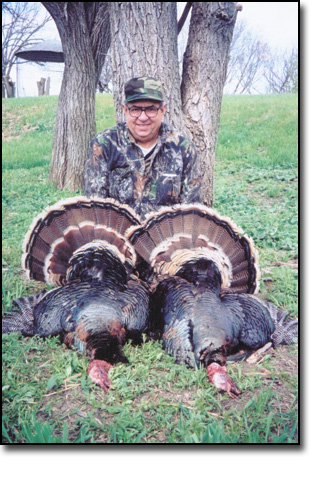 First let me thank you again for one of the most exciting hunts I have ever experienced. Having an opportunity to harvest two long beard merriam toms within second is a memory I will long cherish. I have done a good deal of turkey hunting and that was my first opportunity of that nature as well as my first merriams birds."

Ron Sellars
Temple, Texas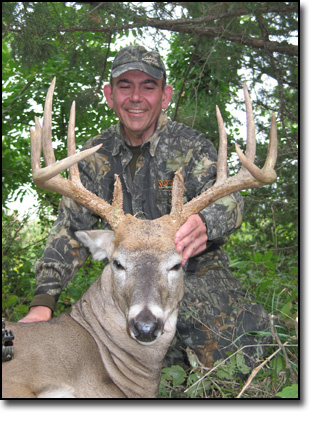 My 2007 hunt was fantastic. the Gobble n Grunt guides worked hard to get me on deer. They scouted and set stands every day to stay with the buck bachelor groups. The result was the largest buck of my life.
Gary Gapinski
Sauk Rapids, MN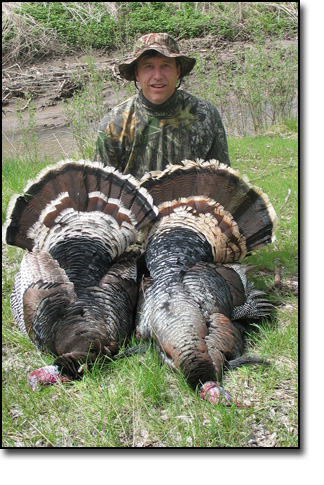 Thanks for a great hunt! Your staff were very accomodating and put in a lot of effort. To top it off, man do you guys have the turkeys. Two birds coming in spitting and drumming and culminating in shots at 17 and 20 yards! One of the best hunts I've ever had.
Wayne Lennington

"Great stuff and thanks again for everything. My taxidermist, who is nationally recognized Shane Smith, said that the bird I brought him was the largest Merriam's he had ever seen. The bird weighed almost 23 lbs and had an 11 inch beard. The spurs were true "hooks. Nice!"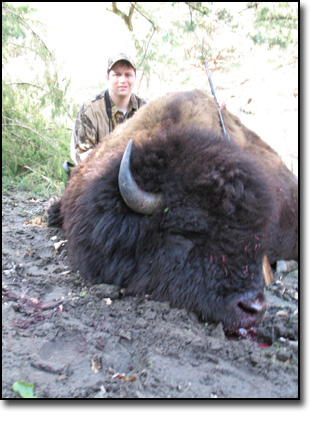 This is a great recreation hunt that allows for hunting of bison in their native range. The hunt takes place on a large ranch and the bison are anything but tame. I highly recommend this hunt with a wonderful outfitter and group of guides.

Leff Robbins
Alabama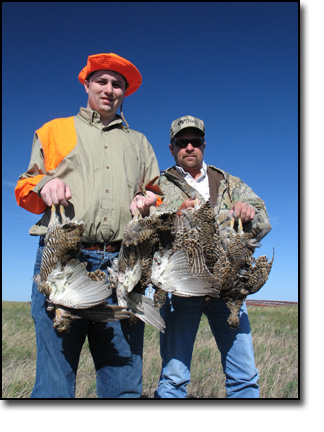 Prairie King's praire chicken hunt offers an opportunity to hunt these birds in relatively high densities. This a very fun hunt and is highly recommended.

Leff Robbins
Alabama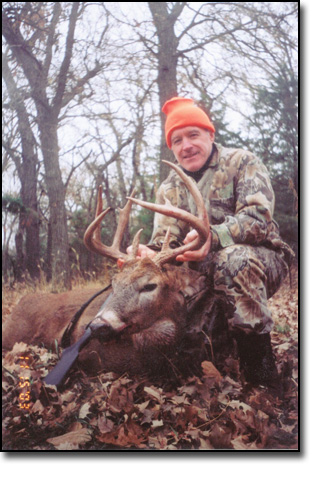 "My boys and I had a trip of a lifetime. Harvesting 2 great bucks was fun but the whole experience of a Nebraska Whitetail Hunt with you was incredible. From the beauty of the countryside to James' knowledge of whitetails and their habits, this hunt was everything one could hope for. Oh, let me not forget the warm hospitality and delicious meals!"
John Masterfield, Windermere, FL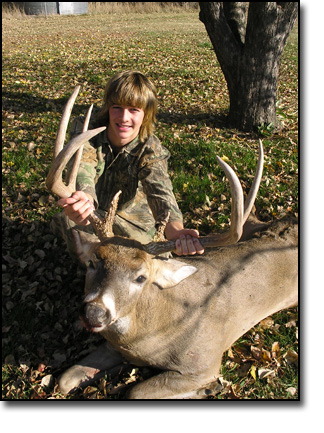 To see live testimonials of our hunts, go the the video cilps page.