A
bsolutely no bird signifies wingshooting on the Great Western American frontier more than the Greater Prairie Chicken.  Prairie Grouse hunting is rapidly catching on with wingshooters as the grandest of all wingshooting and the only true native wingshooting of the west.  The wild and wary Prairie Chicken (Chikin) carrys a reputation as one of the most challenging game species you'll hunt with a shotgun.  The very name Prairie King Winshooting comes from the Chikin's label as the "King of the Prairie".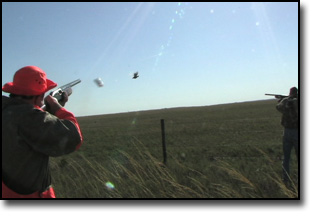 Fast Action........The prairie chicken will test the skills of the most accomplished shotgunner.  3 inch shells are the standard for this wary bird that often flushes at the edge of a 12 guage's range.
O
nce numbering in the millions and spread out across the western plains, the  Greater Prairie Chicken can now be found in huntable numbers in only a few places due to extensive pasturing of western prairies and cultivation.  Prairie King is the last best place to hunt where you can expect to limit out on most days.  The best prairie chicken hunting can be expected from the season opener in mid September until mid october.  At this time the birds are in small groups and are more easily approachable.  After mid October the prairie grouse have  gathered into their winter flocks and it becomes much harder to find approachable Prairie Chicken or Sharptail.  However, the feathers of the young birds are more suitable for mounting at this time, so you'll shoot fewer birds, but more of them will be fully plumed.
Rare Bird........There's no more majestic trophy than a breeding pair of the Greater Prairie Chicken.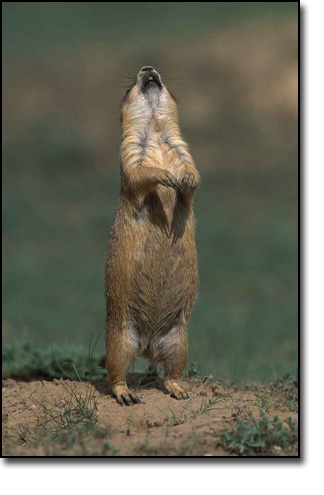 More fun than you'll have all year........Prairie dogs make a great combo species with a prairie grouse hunt.
If you have hunted prairie chickens without much success, you need to give us a call and experience the best in prairie chicken hunting.  If you've never hunted prairie chicken, you need to do it.  The vast majority of our clients say it is the most exhilarating and satisfying wingshooting they've ever experienced.  This hunt makes a great combination with prairie dog shooting.